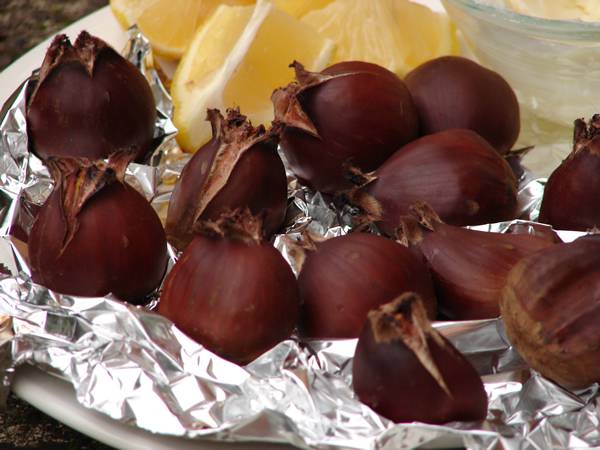 Chestnuts are flattish nuts with glossy brown shells, creamy texture, and rich earthy flavor. They are traditionally served as an accompaniment to meat, but once they have cured in the refrigerator for a few days and some of their starches have turned to sugar, chestnuts have a characteristic sweetness that highlights both sweet and savory flavors.
October is the time to keep an eye out for freshly harvested chestnuts. For a first-of-the- season treat, the best way to roast chestnuts is over the coals on the backyard grill. Stir the chestnuts around as you allow the flames to lightly touch them for a deliciously smoky note.
If the grill is not an option, roasting the chestnuts in the oven is your next best choice.
Roasting Chestnuts in the Oven
* The characteristic cross-hatch cut at the bottom of each chestnut is not a bow to tradition but serves two important purposes: It keeps the chestnuts from exploring as they cook and it makes them easier to peel.
* An old, cheap plastic knife with a serrated edge is said to be the choice of chestnut experts; it will get the job done, and is easy to hold onto. Also, the hard peels will dull a sharp blade. Some roasters put the cross hatch just through the skin on the under, or round, side; others like to lay the chestnut flat and make the cut on the flat side of the chestnut. Both seem to accomplish the end of keeping the chestnuts from exploding.
* When ready to cook, preheat oven to 425-degrees.
* Arrange chestnuts on either a rack or a foil-covered cookie sheet. Allow chestnuts to roast until the skins pull away from the cuts and nut meat is soft. Roasting time will usually vary from 20 minutes to almost an hour,
* When chestnuts have roasted, mound them into an old towel, wrap them up, and squeeze hard. The chestnuts will crackle. Let them steam for a few minutes. When you open the towel, you will be able to rub away most of the peel and skin. You are now ready to taste the first roasted chestnut of the season at its very best.
Once the chestnuts are roasted:
Chestnuts become rancid quickly and are best stored in an airtight container in the freezer.
Try them as an appetizer with just a light sprinkle of salt
Traditionally, dressings and stuffings for roasts and fowl benefit from the flavor of roasted chestnuts.
Add roasted chestnuts to your favorite risotto.
Roasted chestnuts are surprisingly delicious additions to braised cabbage dishes.
Once you have tasted freshly roasted chestnuts, straight from the oven, you will think of dozens of reasons to use this wonderful nut.
Source:
1. How to Roast Chestnuts > Start Cooking
2. Are Onions Good For You
3. How to roast chestnuts | BBC Good Food

Image Credit
fs.christonium.com