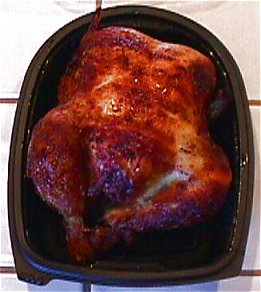 Who hasn't been lured by the smell of delicious rotisserie chicken in the supermarket? You don't need to settle for store bought chicken, it is very easy and much more delicious to make your own rotisserie chicken at home. "Set it and forget it" we have all seen the infomercial. The Showtime Rotisserie is as far as my family is concern, the best invention since sliced bread. I have had my Showtime Rotisserie for at least 8 years and have made many very fine rotisserie chickens with it.
Making a rotisserie chicken at home is very simple. I use a flavor injector to add whatever seasoning I want directly into the chicken. Store bought marinades work very well. They come in a wide variety of flavors from teriyaki to lemon pepper, the sky is the limit. If you prefer, you can do a dry rub on the outside of the chicken or just pop an onion and some fresh rosemary into the cavity.
The chicken is then placed on the skewers and trussed. The Showtime came with stretchy bands to use to hold the legs and wings close to the bird but when mine ran out, I began using twine, which works just as well. You place the chicken in the rotisserie, turn the dial to the correct amount of time (there is a chart on the side of the unit that will tell you how long you need to cook it) then you just "set it and forget it". Depending on the size of the bird in an hour or an hour and a half, you will have a delicious, moist, crispy bird that can be used in a variety of dishes.
We always start by just have the basic roasted chicken dinner with nice mashed potatoes and maybe some green beans. The beauty of the large show time grill is that you can cook two birds at once, which will leave a lot of leftovers.
One of our favorite left over meals is Chicken Waldorf Salad.
Two cup of chopped chicken preferably white meat
4 tablespoons of mayonnaise, light if you like
1 cup walnuts, chopped
One large granny smith apple chopped into chunky pieces
Mix all the ingredients in a large bowl and serve over greens. Serves 2
Never Waste a Thing Chicken Soup. I never waste a chicken carcass.
Reserve a cup of chopped dark meat
Bones of one chicken
One large onion
Four carrots
Two leaks
Two ribs celery
3 quarts of water
Four chicken bouillon cubes
Place all the ingredients (except chicken) in a 4-quart saucepan and boil for an hour and a half. Strain through a colander. Let cool. Remove onions, leaks, carrots and celery.Throw the bones out. Chop the vegetables fine and put back into the broth. Add the chopped chicken and 2 cups of flat noodles. Cook until noodles are tender. Add salt and pepper to taste.
This is a nice lunch or dinner with some fresh bread. It also freezes well for up to three months. Is enough to feed two hearty appetites or four light eaters.
Source:
1. Recipes Using Store Bought Rotisserie Chicken – Leftover Chicken …
2. Calories In Cantaloupe
3. Rotisserie Chicken Recipes – Cooking Light

Image Credit
tomsdomain.com